attn: portland venues and bands!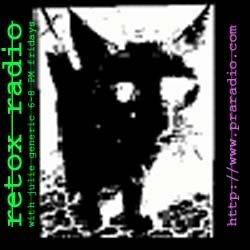 i'd love to play local bands on my show, however, i play psychobilly and punk based genres so forget it if you are an indie band, sorry.
please help me track bands down and get info on when they are doing shows so i can announce on retox radio
http://www.praradio.com/mainpage.htm
fridays 6-8 PM.
we are in the process of changing web sites, so this will be in effect next week and for now the time slot lists the show that left, but i am doing my show at that time.
this is a brand new show and i really want to help promote what is going on with local bands and venues.
i will have live interviews as well, providing ya'll wanna do them!
our studios are currently downtown portland but will be moving to broadway and weidler in the next month or so, sharing a space with a brewery and other local artist shops and such. that, obviously, will kick ass.
also please feel free to contact me with what you might like to hear on this show, regardless of where you live.
http://www.myspace.com/nux_v0mica
-julie generic aka nux deluxe
Current Mood:
nostalgic